Thailand is a beautiful country known for its tropical forests, beautiful stretches of sand, blue sparkling water, amazing coastal scenery, world-class customer service and an array of luxurious hotels. For people looking for a break from the busy city life, Thailand offers great stunning features not only in scenery but in various activities as well. In addition to that Thai people are popular for their hospitality and kid-friendly nature, which makes it an ideal family-friendly destination. Visit the Thailand beaches for your summer vacation during your Thailand holidays to reinvigorate your body and soul. There are endless places to visit in Thailand that you will be definitely be spoilt for beaches. Although deciding on the beach destination would be a bit overwhelming as the number of choices is huge, we have handpicked some top Thailand tourist places to check out which will act as a travel guide to Thailand and give you a wonderful experience to this beautiful country.
Phuket
The largest and the busiest island in Thailand, Phuket is one of the most popular beach destinations for foreign tourists and locals alike. With spectacular beaches, top-notch label boutiques and luxurious hotels and resorts, there are plenty of reasons why Phuket has been listed in the best beach destinations by many travelers. You can easily book direct flights from many countries. With accommodations available for every budget i.e. backpacker to a luxurious experience, you can indulge in adventurous activities are diving, sea kayaking, elephant trekking, snorkeling, and visiting the ancient cultural sites. Many areas in Phuket are not family-friendly, so do book your destination carefully. The Koh Phi Phi Don's Maya Bay and the Phang Na Bay are the most popular beaches here. The JW Marriott Phuket Resort is one of the ideal locations for the entire family. With world-class facilities and amenities, you will love the experience over here.
Krabi
Mesmerizing beachscapes blessed with limestone cliffs and emerald-green water is how we describe this place. There are unique adventurous activities to indulge in for the entire family. Krabi has an awesome diverse collection of marine life and it offers excellent facilities for diving and snorkeling. You can even indulge in kayaking and rock climbing among the rock outcrops to explore the ancient beautiful cave art. Some of the stunning beaches which you should surely check out are Ao Nang Beach, Railay Beach, and the neighboring Phi Phi Islands where you get a mixture of pristine sand coupled with crystal clear water. Avoid planning a trip to Krabi during the monsoon seasons (April to October) in Thailand as rains can be a spoiler to your wonderful vacation. Some of the best luxurious resorts which you can shortlist for your stay in Krabi is Anantara Si Kao. It is a luxurious destination oozing opulence to the core.
Koh Samui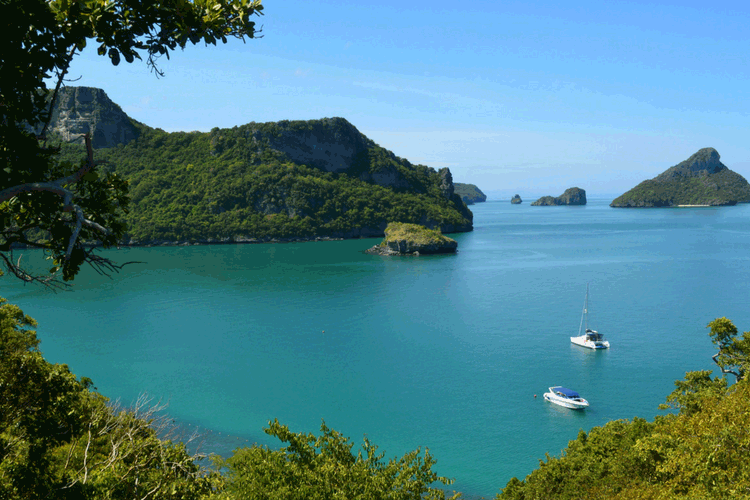 A premier gem of Thailand for a relaxed and upscale environment. Travel to Koh Samui is definitely cheaper than other hot-spots such as Phuket and Krabi. Major developments have hit this destination only post the 1970s and with it, tourism has become a bit hit without compromising on its adventure, charm, and romanticism. Blessed with white sandy beaches, tropical jungle peaks, and numerous coconut groves. Another popular tourist attraction in Koh Samui is the Ang Thong National Marine Park which offers excellent snorkeling and kayaking facilities. You can also indulge in Thai cooking classes, go-karting, and elephant trekking. Avoid the monsoon season (September to December) for a trip here. The Four Seasons Resort here has plenty of family villas and private infinity pools. They also have delightful activities to keep the young ones busy such as crab hunt to coral collecting and much more.
Hua Hin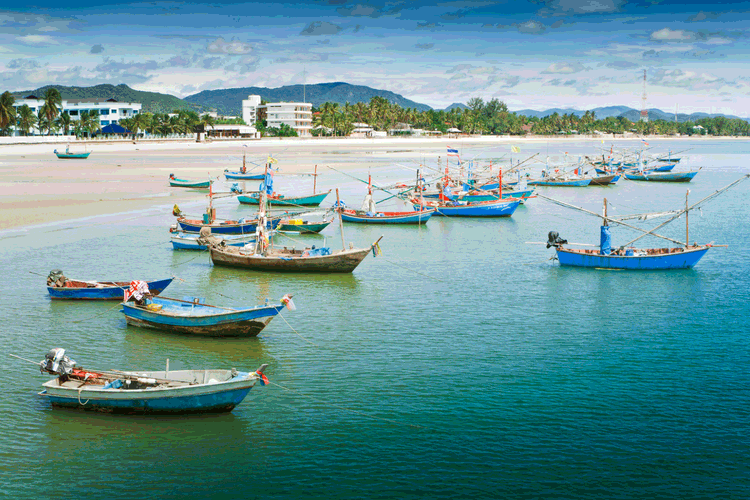 A historically popular place among tourists and visitors. Hua Hin is home to the favored resort of the Thai resort family and the royal family often pays a visit during the summer season. There are several top-notch hotel chains like InterContinental, Hyatt Regency, and Hilton Hua Hin Resort & Spa. Apart from this, there are smaller, boutique accommodations available. Charming squid boats is a popular attraction of the beach. You can enjoy local or Chinese seafood post sunset at one of the shacks on the beach. You can also indulge in adventurous water sports such as skidoos and banana boats even though the water is not very clear. Some of the other popular activities include the Swiss Sheep Farm where you can get a European country-style makeover, Santorini amusement park, and a shopping center. You can also visit the Hua Hin Hills Vineyard while your children indulge in an elephant ride around the grapes. Being a tourist hot-spot, this place is well-equipped with a standard hospital and Tesco.
Pranburi
If you are looking for a quieter and calm ambiance, then the small town of Pranburi is a perfect destination. It is regularly featured in the Colin Cotterill Jimm Juree book series, which is one of the reasons why this place is quite popular. Even though Pranburi is not self-sufficient. It is very close to Hua Hin, you have plenty of access to medical and lifestyle stores and facilities in case you need them. A relaxing environment which gives a great experience to all its travelers no matter what their age is. For a more classy experience, head to Hua Hin.
Pattaya
Situated at an hour's drive from Bangkok. One of the enticing options in Thailand for a getaway, Pattaya offers a great experience across all age groups. The Horseshoe Point offers a wonderful option far away from the city which offers kids great options to engage themselves. They can play tennis, ride bikes, ride horses and indulge in other outdoor activities such as super cool water balloons. You can also try out golf in some areas of Pattaya.
[Also Read : What to do in Pattaya]
Thailand offers a great atmosphere and environment for the entire family. No matter which destination you shortlist, we assure you that you are surely going to have a wonderful and memorable experience. In short, you will be amazed by the exotic culture, delicious cuisine, hospitality of the locals, and mesmerizing natural landscapes which are unmatchable to anywhere else in the world.