Thailand is a wonderful and interesting place to explore and the fact is that it is great to travel during any season. All over the year Thailand is quiet busy but for few months you might notice an average crowd. These few months are mostly an off season period where you can expect less crowd as compared to the season period. There are travellers who wait for low season period as they prefer less crowd and quiet places and explore the hidden gems in Thailand in their own ways. Rain starts during May and continue till end of October. Usually, it does not rain continuously throughout the day. There are showers of rain for few hours and then the rain stops leaving a cloudy weather throughout. You won't get direct sunlight for many days in Thailand due to cloudy weather.
Reasons to Visit Thailand during Off Season
It is Less Crowded
Every year millions of people flock to Southeast Asia to explore the nature and spend their life's quality time. It is really good to see so many people celebrating life in their own way. Some people love to travel in off-peak season. This is because they get more time and more space to explore in their own way. There are places to visit in Thailand where you need to stand in queue for long hours but during off season you can expect less rush and relax and enjoy in your own way. Relaxing over Thai beaches is every visitor's dream; this is only possible during off season.
Cheaper Rates
As there is fewer crowds, most of the locals starts concentrating on the remaining travellers and start offering better rates and best deals. Most of the accommodation, food, Airlines as well as tour operators offer special discounts on off season period to make money. You can enjoy the same food with same taste at lower prices and stay in best hotels at cheaper rates. It is like a dream come true to enjoy mouthwatering Thai food at low prices.
Witness Local Festivals
There are various things to do in Thailand during off season period. Low season is a busy time for locals as there are wide ranges of festivals that are celebrated during the month of July to October. There are various Thailand points of interest during this period right from the rice cultivation cycle to the boat racing event in September where the tourist can experience these amazing cultural events. These are surely going to be the most memorable celebrations without any extra cost. Many tourists from all over the world plan their trip to Thailand during this period to enjoy as well as study their tradition and religion as well as enjoy the colorful celebrations.
---
---
Smaller Group Tours
During this low season period, you can see smaller groups on tour. This is surely going to increase the flexibility for doing interesting side excursions with a great personal experience. You can avail the opportunity for discovering authentic local visits as the Thailand travel guide will find it easier to accommodate smaller groups for dining in the best local restaurants or visiting villages. This season gives an opportunity to indulge in Thailand's mesmerizing beauty and explore the food and tradition practiced in different villages.
Awesome Weather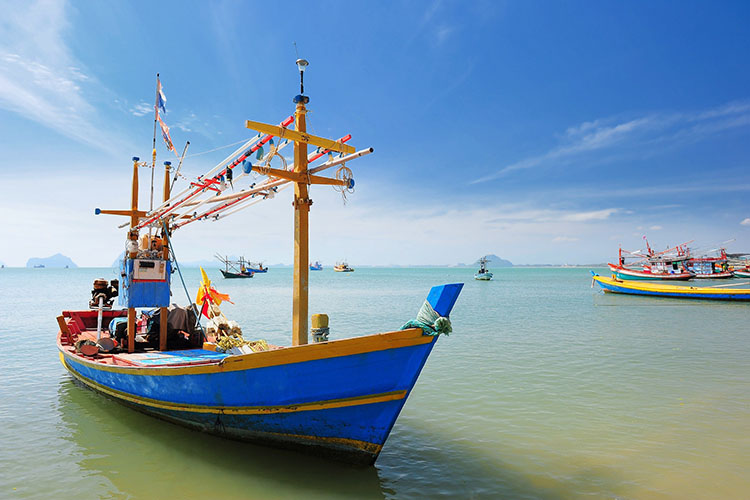 Low season or off season is referred to rainy season. This is the season where its rains in Thailand. But do not think that it is going to rain heavily and continuously. It does rain but not whole time but surely expect a cloud burst on most of the days mostly in afternoons. As the climate of Thailand is predictable, it would be easy for you to plan your day excursions according to the weather. These beautiful rains transform the brown hues of dry season to a lush green beauty. You can't resist yourself from clicking beautiful pictures of nature in Thailand. Visiting Thailand during low season is not going to be a disappointing experience, rather you would be gifted with full of surprises and satisfactory journey.
Places to Visit in Thailand during Low Season
Sangkhlaburi
This town near Myanmar is best to be visited during rainy season as the Khao lam Dam gets full, which encourages for lot of water based activities. Tubing and inflatable boating, bamboo rafting, and other water activities are carried widely during rainy season that attracts most of the tourist from all over the world.
Nakhon Si Thammarat
Gulf of Thailand is best during Monsoon Season as compared to the Andaman Sea. Nakhon Si Thammarat has a new national park Hat Khanom-Mu Ko Thale Tai that has beautiful coral reefs and pink color dolphins. The best time to witness these rare species is during June to August where the water is clear due to low rainfall.
Petchabun-Phitsanulok
It is situated on the western part of mountainous Isaan region. There are various rainy season activities to thrill the visitors. It is known as the best white water rafting in Thailand along the Khek River.
Carry your rainy season material and do not get confused on where to go in Thailand during low season period. Check for Thailand visa requirements and book your tickets for experiencing the heaven on earth.